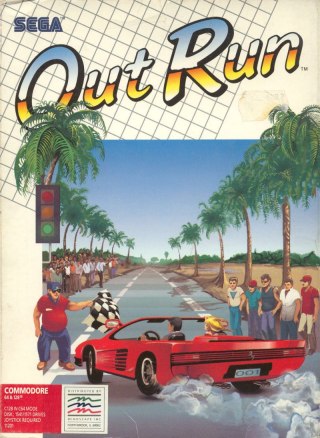 "Wherever you travel you will be impressed with the smooth-scrolling graphics. Trees, buildings, bushes, boulders, and road signs whix by in dazzling color."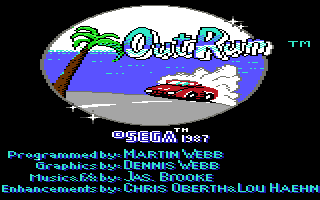 Out Run: Speed! Power! The roadís all yours. Hot car. Hot music. Sensational scenery. Itís all part of the home computer version of one of the hottest games ever to hit the arcade circuit. Slip inside one of the fastest machines of four wheels. Then step on it.

Cruise past the beaches of southern France, Californiaís Death Valley, cities, mountains, and much more. And leave the others in the dust. Get a good grip on the wheel. Because this baby is pure power. And she could try to get away from you.

"Everything is here: the beautiful graphics, great sound effects, and fast gameplay. As a general rule , I'm not a big fan of games that hae been ported from the arcade to a home computer.

They usually become entirely different games because of hardware limitations. But Out Run is an exception. The overall look and feel of the game is remarkably similar to the original."