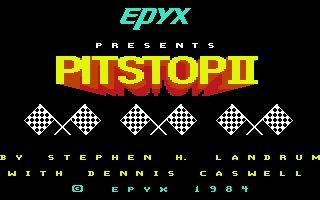 Zzap Back April 1986
Pitstop II is the first racing game that brings you the thrill of battling an opponent, the excitement of fighting for the lead out on the track and the suspense of struggling to be the first out of the pits. Realistic first-person graphics and a split-screen display allow you and another player to experience the challenge of auto racing head-to-head.
The challenge of true competitive action. This is racing. The way it's supposed to be. You can't relax when you take the lead, becouse you know he's right there behind you. Will he try to pass you in the hairpin turn? Or do you think heŽll wait for the next straightway?