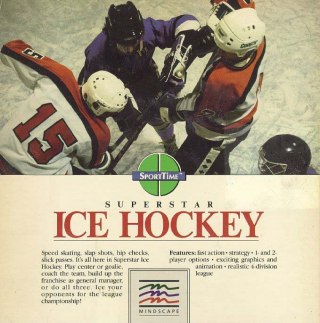 Superstar Ice Hockey is the first complete computer hockey simulation. It's actually three games in one, a software hat trick. Play,coach, and manage.

As a player, take the ice as center or goalie. Fire slap shots, hip-check opponents, make slick passes, block shots. As coach, set up and rotate your players' lines. As general manager, trade and draft players.

Zzap64! Overall Rating: 85%
An extensive and enjoyable simulation, managing to emulate an unusual sport with style.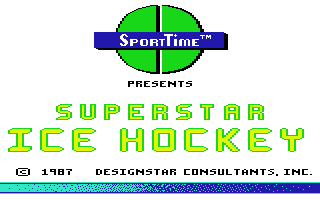 Speed skating, slap shots, hip checks, slick passes. It's all here in Superstar Ice Hockey. Play center or goalie, coach the team, build up the franchise as general manager, or do all three. Ice your opponents for the league championship!
Features: Fast Action. Play center or goalie and skate your team to victory. Strategy. Coach the team and act as general manager. 1-and 2-player options. Play against the computer or another opponent, or play 2 against the computer. Variety. Play 2-on-2 hockey, 4-on-4, or 6-on-6 (regulation hockey). Exciting graphics and animation.
Full player movement for up to 12 players on the screen. Realistic. Complete in a hockey league featuring players of varying abilities and ages. 4-division league.