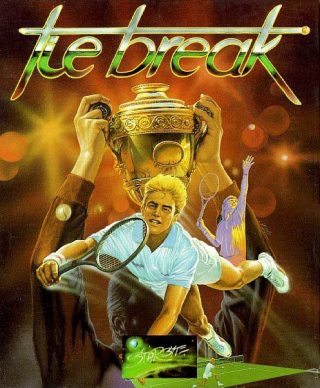 Pin 'em to the baseline, attack the net and volley the winner!

You might have taken this match but that was on grass - can you play as well on clay or on the indoor courts?... with TIE-BREAK you'll soon find out! And the play selection doesn't end there - play singles or doubles, select to play in all the major tournaments such as Wimledon, Davis Cup, French Open and many more.

You can then make a racquet selection - and that could win you the match!

Featuring all the shots in the book, breathtaking animation and amazingly realistic speech and sound effects in T.V. style presentation make TIE-BREAK the out and out winner on any micro.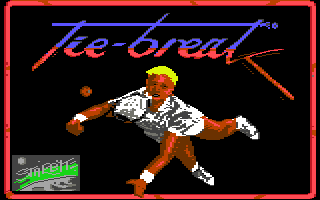 Besides great graphics, excellent displays and perfect sounds, Tie Break Tennis offers more, a lot more! Realism, thrill, precise ball control, a wide range of techniques, practice games and international tournaments are all included.

General Features:
- Choice of private and world tournaments (Singles or Doubles), or training games.

- Selection of varied computer opponents with individual profiles, including name, nationality, and weight.

- Variety of techniques: crushing serves, forehand, backhand, topspin, slice, lob, overhead play, "slams", volley, soft balls, and many more.

- Choice of court surfaces (grass, clay or asphalt), racquet tension, and racquet weight.

- Amazing realistic speech and sound effects; great music scores with TV-style commentary.
- Comic animation.

- All major tournaments included: Wimbledon, US Open, the Davis Cup, Australian Open, The Masters, and the French Open.

- Program keeps automatic track of individual rankings with editor to change and improve existing stats.

- Up to sixteen players (human or computer opponents) can participate in Singles tournaments!

With its breathtaking animation, amazing realistic speech and sound effects in TV-style, Tie Break Tennis scores an ace everytime!