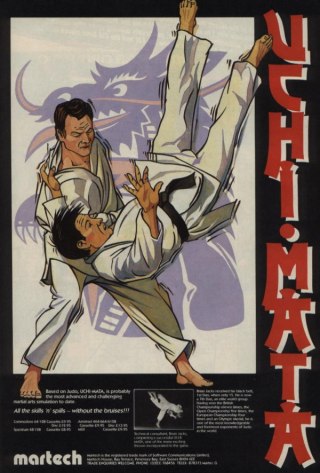 Based on judo, UCHI-MATA, is probably the most advanced and challenging martial arts simulation to date. All the skills 'n' spills - without the bruises!!!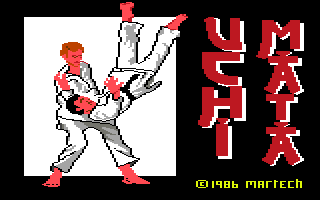 According to Brain Jacks, British Judo Champion and Superstar extraordinaire, Uchi Mata (Itchy Mother, Uchi Mata - it all sounds the same to me) is one of the most satisfying moves in Judo. It is also the title of Martech's new sports simulation, which is being written by ex-Task Set programmers, Andy Walker and Paul Hodgson.
This dynamic duo spent a long time filming Mr Jacks in training, and learning about the sport of Judo to ensure that the graphics, rules and scoring were as close to the real thing as possible - within the contstraints of the 64.
Some Judo moves aren't included in the game - such as those which involve holding a player down on the floor for 30 seconfs - since Andy and Paul felt that it wasn't really 'game stuff'.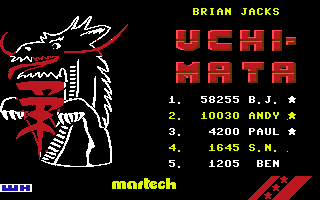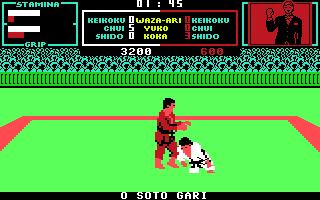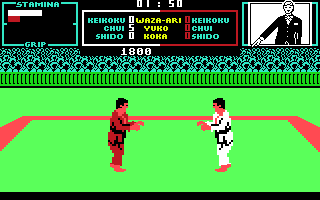 Andy and Paul decided they wanted to encourage the player to learn about Judo as the joystick was waggled, picking up the moves and getting into the sport as well as the on screen action. Some of the moves may seem very complex initially, but there are several straightforward throws available which help the player to get into the game.
Andy feels that as players improve they will begin to use, and appreciate, the more complex available. Sixteen physical movements are accessible from the joystick, but since each can start in one of two ways and end in any one of five, there are effectively 160 possible permutations once you get onto the mat!
Although Uchi Mata is inteded to be a simulation, it will no doubt be regarded as yet another in the current trend of beat em up games. It's much more than a straightforward scrapping game, however: once you start to play it becomes clear that strategy is required as well as quick thinking and fast reactions.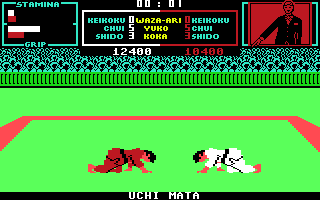 In real life, the positioning of a fighter's feet is important and as the game progresses, certain moves can only be executed on screen if the player positions his man correctly. Also, getting a good grip on your opponent is essential - the better the grip, the more chance you have of performing a good move.
The grip constitutes a good 60% of Judo, so Andy and Paul decided that this would have to from an integral part of the game. While the combatants grab hold of each other automatically when they get close enough, as you get better at playing Uchi Mata, you can take control of the grip and affect the timing and strength of a hold.
Uchi Mata should be completed in time for the PCW show - Martech plan to have live Judo demonstrations on their stand, so pop round and say hello. Take your Black Belt along...if you've got one!