ZZAP64! Overall Rating: 98%
A finely polished sports game likely to appeal even to those who don't consider themselves sports fans.

ZZAP64! Overall Rating Rerelease: 90%

With amazingly realistic three dimensional animation, golfers will face multiple 18-hole golf courses that demand strategy, total concentration, and control to come in under par. Leader Board has three levels in one of the most realistic golf simulators made for today's computers.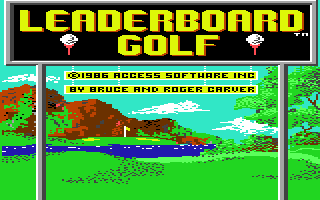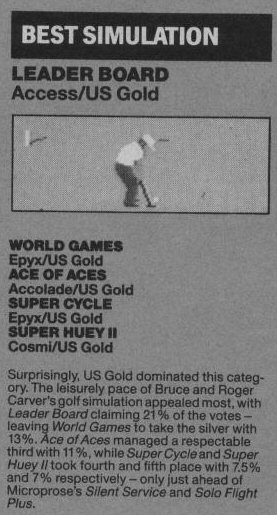 Zzap Readers Awards March 1987

Awarded a Zzap 64 Gold medal with the words "If you have ever bought another Golf simulator - shoot yourself! If you are ever considering it - save yourself a bullet!" "Quite honestly Leaderboard makes all other Golf simulators look clumsy, antiquated in comparison, this is the sports simulation of the year, if not the decade!".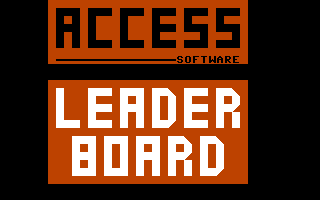 ACCESS welcomes you to the exciting world of professional golf with LEADER BOARD. LEADER BOARD is the most realistic golf game ever developed for the home computer because it gives you a true perspective view of each golf shot you take.
LEADER BOARD is a game of concentration, co-ordination and control. You will need to judge distance accurately in choosing your club and power of your swing. With practice, you will soon be playing LEDER BOARD like a touring professional.
OBJECT OF THE GAME is to sink the ball into each hole by hitting the ball with a club the least number of times possible. Avoid hazards that add extra "strokes" (hits with the club) to your score. Low score wins.