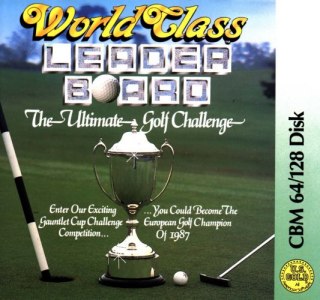 FAMOUS COURSES OF THE WORLD Vol I
by ACCESS Software for COMMODORE
Get ready for more golf excitement with Famous Course Disk Volume #1.

Three "Famous" courses are featured along with a fourth course designed specifically for this program. Each hole authentically reproduces the distant, traps, trees, rough and water hazards of:

Harbour Town - Nicknamed the "Pebble Beach of the East". This course is located at the Sea Pines Plantation in South Carolina and is considered to be one of the most beautiful and well designed courses on the PGA Tour.

Sunningdale - Located near London, England, Sunningdale is a challenge of subtelty. Its characteristics are best described by the phrase "A wolf in sheep's' clothing".

Dorado Beach - This Puerto Rican Course is considered to be one of the worlds' most demanding.

Also included is the "World Class" course of Pine Ridge, which was designed to be the most difficult and challenging course in this series.

Includes special Punch Slot feature for pitch and run shots and shooting under trees! REQUIRES "WORLD CLASS" LEADER BOARD GAME.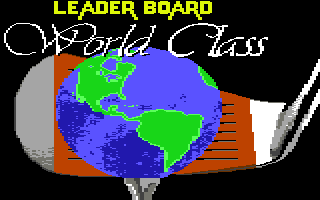 World Class is a game of concentration, skill and control.
You will need to judge distance accurately in choosing your club and power of your swing. Please read this completely to maximise your playing enjoyment.
Now you have the opportunity to play the same courses that have challenged golf's greatest legends.
World Class LEADERBOARD features three famous 18 hole golf courses and each hole authentically reproduces the distance, traps, trees, rough and water hazards of: St Andrews: The most revered course in golf. Doral Country Club: The Florida Blue Monster. Cypress Creek: The Largest and the Finest.
The fourth course, designed specifically for World Class is the Gauntlet Country Club. Only those who have mastered the best courses in the world should expect to come close to par at The Gauntlet.
ZZAP64! Overall Rating: 94%
Quite simply the apex in golfing simulations. Tough, demanding, challenging and requiring far more skill and strategy than previous versions.