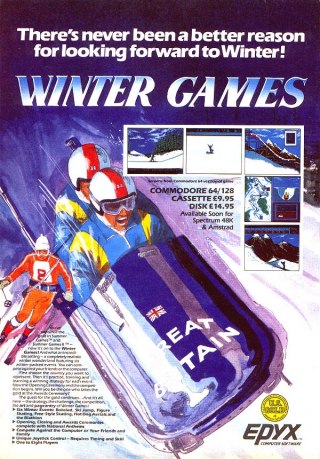 You're an athlete at the 1988 Winter Games at Calgary, Alberta, Canada. You're about to move across snow and ice with as much speed, strength, endurance and grace as you can muster in the blustery cold.

This is the winter portion of the world's foremost amateur sports competition. You'll match your skills against the top athletes from a hundred countries.

Be proud. Today you stand among the elite few whose courage and stamina will be tested by these Winter Games. Listen. A fanfare of trumpets sounds as the WINTER GAMES flag is slowly raised. Thousands of white doves are released, symbolically to fly to the countries of the world with the message of peace -- and the news that the Winter Games have begun. This is it -- your chance to go for the Gold!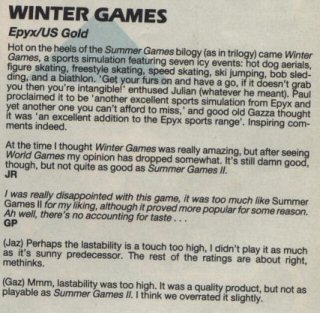 Zzap64 Back Nov.1986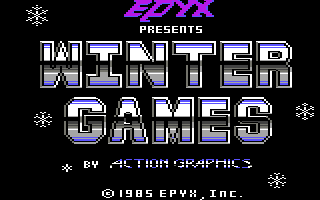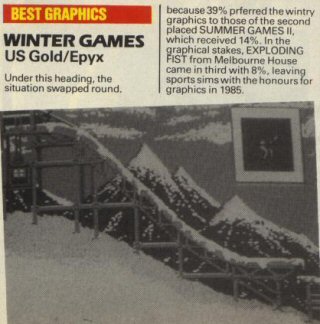 Zzap64 Readers Awards April 1986

There's never been a better reason for looking forward to Winter! You've captured the gold in Summer Games and Summer Games II - now it's on to the Winter Games! And what an incredible setting - a completely realistic winter wonderland featruing six action-packed events. You can compete against your friends or the computer.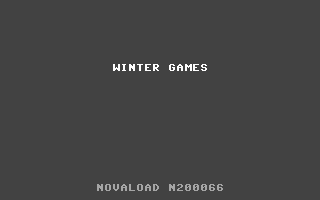 First choose the country you want to represent. Then it's practice, training and learning a winning strategy for each event. Now the Opening Ceremony and the competition begins. Will you be the one who takes the gold at the Awards Ceremony?
The quest for the gold continues... And it's all here - the strategy, the challenge, the competition, the art and pageantry of Winter Games! Six Winter Events: Bobsled, Ski Jump, Figure Skating, Free-Style Skating, Hot Dog Aerials, Speed Skating and the Biathlon.
Opening, Closing and Award Ceremonies complete with National Anthems Compete against the Computer or Your Friends and Family. Unique Joystick Control - Requires Timing and Skill.
One to Eight Players.